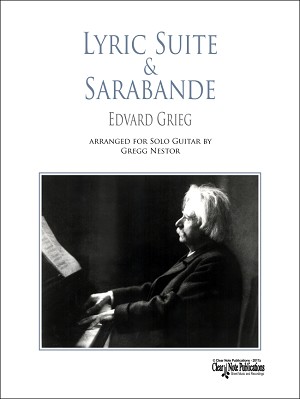 The Edvard Grieg Lyric Suite & Sarabande is another of Gregg's excellent arrangements for guitar.  The present work is for solo guitar, but Gregg also has published another Grieg work, The Holberg Suite, Op. 40, for guitar and chamber ensemble.  Both of these fine works are available at Clear Note.
The Pieces
I. Waltz Op. 12, No. 2
II. Watchman's Song Op. 12, No. 3
III. Norwegian Melody Op. 12, No. 6
IV. National Song Op. 12, No. 8
V. Spring Dance Op. 33, No. 13
VI. Norwegian Dance Op. 47, No. 4
Sarabande – from the Holberg Suite
About Grieg
"Bach and Beethoven erected temples and churches on the heights. I only wanted to build dwellings for men in which they might feel happy, and at home."
Edvard Grieg
Edvard Hagerup Grieg (1843-1907) was a Norwegian composer and pianist. He is widely considered one of the leading Romantic era composers, and his music is part of the standard classical repertoire worldwide. His use and development of Norwegian folk music in his own compositions put the music of Norway in the international spectrum, as well as helping develop a national identity.
Grieg's character and personality shine through in almost all his published compositions. Nowhere are they more vividly evident than in his Lyric Pieces. Six of these exquisite jewels have been set for solo guitar as a short suite, but can be played as separate pieces in concert.
A Sarabande from the "Holberg Suite" has also been included in this edition as a stand-alone work.