Gregg has just helped to make guitarists who love Scott Joplin quite happy. He recently released a great set of four Scott Joplin Ragtime Guitar Solos through Clear Note.
The Set
The Entertainer
Elite Syncopations
Rosebud
Pineapple Rag
About Scott Joplin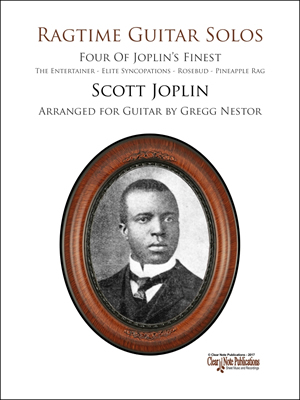 Scott Joplin was born in Northeast Texas in around 1867, just outside Texarkana, and was a street performer before settling in Sedalia, Missouri, St. Louis, Missouri, and finally New York City where he died in 1917. He was an American composer and pianist, who achieved fame for his ragtime compositions, and was dubbed "The King of Ragtime". During his brief career, Joplin wrote over 40 original ragtime pieces, one ragtime ballet, and two operas.
As a composer Joplin refined ragtime. This new art form combined Afro-American folk music's syncopation and nineteenth-century European romanticism, with its harmonic schemes and its march-like tempos. With this as a foundation, Joplin intended his compositions to be played exactly as he wrote them – without improvisation. The composer wrote his rags as "classical" music to raise ragtime above its "cheap bordello" origins and produced works which were described as "…more tuneful, contrapuntal, infectious, and harmonically colorful than any others of his era."
For this publication, four of his finest were arranged for solo guitar. Although grouped as a "suite", they can be easily played and presented individually.