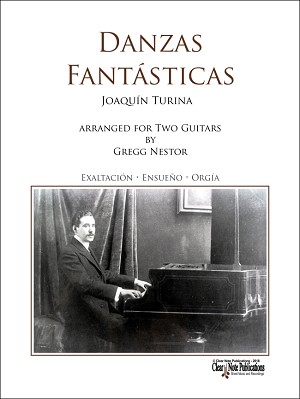 Danzas Fantásticas! The title alone of this excellent arrangement for two guitars already gets one excited.  It promises to be a great joy for any two guitarists who play it.  The score along with an audio download card is available here.  The audio is taken from the CD called Kaleidoscope recorded by Gregg Nestor and Raymond Burley.
Danzas Fantásticas, Op. 22, originally written for piano and later orchestrated, were premiered in 1920. The work takes inspiration from the poetic ideas expressed in the novel La Orgía by José Más (1885-1940).
Exaltación (Exaltation) is prefaced with the words – It appeared like the figures of some incomparable picture, moving within the calyx of a flower – and begins meditatively before progressing to the vigorous rhythms of the jota.
Ensueño (Reverie) is more melancholic – The strings of the guitar sound like lamentations of a soul no longer able to bear the weight of sorrow. The rhythmic pattern established after the opening trills is the zortzico, a Basque dance performed on flutes and drums, characterised by a 5/8 rhythm. The pulse is firmly stated before the advent of a delightful melody. An expressive middle section, Allegretto tranquillo, changes the mood towards the reflective until the return of the zortzico. In a short coda a few bars of the Allegretto's 6/8 rhythm reappear before the quiet 5/8 ending.
Orgía (Orgy) takes as its motif – The perfume of flowers blends with the aroma of camomile and the bouquet of tall chalices filled with incomparable wine from which, like incense, joy rises. This final movement, brilliant and colorful, is ideally suited to guitar textures, revealing distinct melodic and harmonic similarities to the composer's solo guitar pieces, Sevillana, Op. 29 (1923) and Sonata, Op. 61 (premiered 1932.)