*****This Wild Dance CD is currently #12 on Billboard Classical!
Gregg's Arrangements Featured
The Wild Dance CD collection, the first of three volumes by Duo Sonidos, unleashes a wellspring of exciting new transcriptions culled from the rich repertoire of vocal and violin chamber music, previously deemed unthinkable on the guitar. This colourful mosaic of 20th-century music, from Rodrigo's affectionately lyrical Cuatro canciones sefardíes to John Williams' haunting theme from the film Schindler's List, unveils the hidden world of charm and intimate expressivity provided by Gregg Nestor's skillful and sensitive arrangements.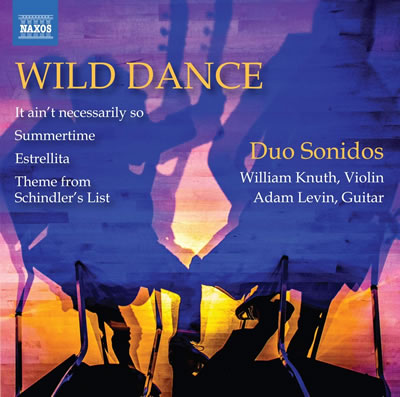 Great Selection of Composers and Music
The complete list of composers on this CD is varied and impressive: Lukas Foss; George Gershwin; Erich Wolfgang Korngold; Manuel María Ponce; Maurice Ravel; Joaquín Rodrigo; Karol Szymanowski; John Williams. The music is equally varied and impressive. For example, you will find wonderful arrangements of old favorites like Gershwin's It Ain't Necessarily So and less well-known but delightful pieces like Wild Dance by Szymanowski. It is a joy to hear the fine interpretations of these composers by Duo Sonidos with William Knuth on violin and Adam Levin on guitar.
Where You Can Get This Fine CD
This exciting Wild Dance CD from Naxos Records is available on Amazon here in various formats: streaming, mp3 or audio CD. In addition, you can find information and audio clips from the CD at Naxos Classical.