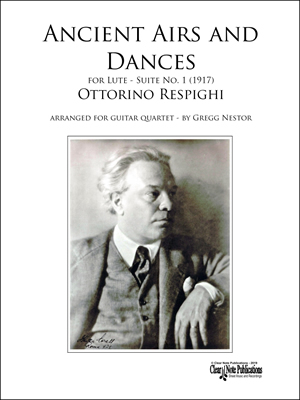 just recently published Gregg's lively arrangement of the Respighi Suite No.1 – Ancient Airs and Dances for guitar quartet. The printed score and parts come with an audio download for practice and learning.
Ancient Airs and Dances – Suite No. 1 – Ottorino Respighi – for Guitar Quartet
Balletto detto "Il Conde Orlando"
Gagliarda e La Volta
Villanella "Orlando fa' che ti raccordi"
Passo Mezzo Bonissimo e Mascherada
Respighi's Early Life
Ottorino Respighi (July 9, 1879 – April 18, 1936) was born in Bologna, Italy. He was taught piano and violin by his father, who was a local piano teacher. He continued studying violin and viola with Federico Sarti at the Liceo Musicale in Bologna, composition with Giuseppe Martucci, and historical studies with Luigi Torchi, a scholar of early music. In 1900, Respighi went to Russia to be principal violist in the orchestra of the Russian Imperial Theatre in St Petersburg during its season of Italian opera; while there he studied composition for five months with Rimsky-Korsakov. He also had composition lessons with Max Bruch in 1902 in Berlin. Until 1908 his principal activity was as first violin in the Mugellini Quintet, before turning his attention entirely to composition.
Music Scholar and Composer
In his role as musicologist, Respighi was also an enthusiastic scholar of Italian music of the 16th-18th centuries, and was one of the first symphonic composers to have a strong interest in early music. He was actively involved in the modern editions of works by Monteverdi and other 17th- and 18th-century masters, and was fascinated by lute music from the Renaissance and early Baroque. This repertory had just become available in modern editions prepared by an Italian scholar named Oscar Chilesotti (1848-1916), a pioneer in the deciphering of the old lute notation (the so-called "tablature"). Chilesotti published several volumes of solo lute pieces and lute songs in modern scores, transcribing the accompaniment for piano in the spirit of the time.
Airs and Dances "Reverse Engineered" for Guitar Quartet
In arranging these "ancient airs and dances," Respighi wanted to create instrumental parts that 20th-century orchestral players would find interesting. In a form of reverse engineering, guitarist Gregg Nestor has adapted two of these orchestral suites for guitar quartet.