In addition to his recent pu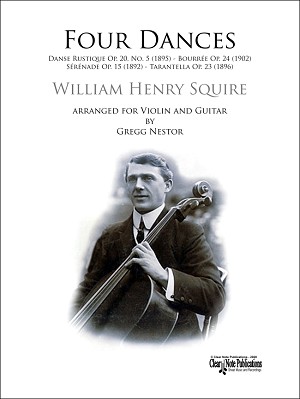 blication of W.H. Squire's Tarantella, arranged for Guitar and Orchestra, Gregg has also put out two entertaining arrangements of Four Dances by W.H. Squire for violin and guitar and cello and guitar.  These pieces include the aforementioned Tarantella.  Here are the links where they are available: Four Dances for Violin and Guitar and Four Dances for Cello and Guitar. These are the dances:
Danse Rustique Op. 20, No. 5 (1895)
Bourrée Op. 24 (1902)
Sérénade Op. 15 (1892)
Tarantella Op. 23 (1896)
William Henry Squire (1871-1963) was a British cellist, composer and music professor of the late 19th and early 20th centuries. He studied cello at the Royal College of Music, and became professor of cello at the Royal College and Guildhall schools of music. He was principal cello in several major London orchestras and helped to popularize the cello as a solo instrument in the early years of the 20th century by giving public concerts throughout the British Isles and making recordings.
By the late 1890s, when Squire was employed by the Queen's Hall Orchestra, he was already busy publishing a great deal of cello and piano music. He preferred to write small-scale works for one or two performers most likely written for cello students or for his own performances at London concert halls. His pieces for cello and piano can almost entirely be characterized as light, short "character pieces". Several of his pieces were premiered at London's Henry Wood Promenade Concerts with Squire himself often performing the solo cello part.
For this publication, arranger Gregg Nestor has chosen four youthful and contrasting dances by the composer that were composed for cello between 1892 – 1902, and arranged them for violin and guitar and cello and guitar.
The Danse rustique, Op. 20, No. 5 (1895) has been the second most popular Associated Board Musical Examination selection since it was first listed in the 1920 syllabus.
Bourrée, Op. 24 (1902) was first performed by the composer that same year at Bechstein Hall in London, as well as the gentle British vaudeville music-hall feel of the Sérénade, Op. 15 (1892) as additional items in a predominately vocal recital. Gregg Nestor has added the marking "Tempo de Sicilienne", as a tip-of-the-hat to the French composer Gabriel Fauré, who was a great admirer of Squire's warm and expressive playing, and who dedicated his popular Sicilienne to him.
Finally the Tarantella, Op. 23, (1896), has been the most popular Associated Board Musical Examination selection of W.H. Squire since first chosen in 1928.
These four pieces can be performed separately or together as a suite for concert purposes.