Four Selected Songs for Cello and Guitar by Brahms arranged by Gregg Nestor has once again enriched the cello and guitar repertoire with excellent music, this time from the Romantic Era.
The Romantic Era and German Lieder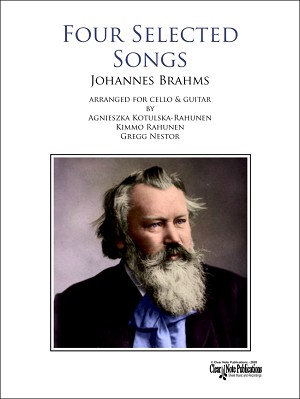 The nineteenth century in Europe was a time when the Romantic spirit took hold of all the arts: the creators of literature, poetry, music and aesthetic philosophy initiated explorations that transformed the world. In music, the works of Franz Schubert, Robert Schumann and Johannes Brahms best embody that spirit.
With the publication of a treasury of German lieder, arranged for voice and guitar by Gregg Nestor and published in several volumes by Clear Note Editions, vocalists and guitarists have the opportunity to study and perform from a widest collection of these exquisite Romantic masterpieces to date.
The Selected Brahms Lieder
Dein blaues Auge Op. 59 No. 8
Wie Melodien zieht es mir Op. 105 No. 1
Schön war, das ich dir weihte Op. 95 No. 7
Das Mädchen Op. 95 No. 1
In selecting these four lieder for adaptation for cello and guitar, care was taken to find contrasting works whose beautiful melodic and accompanimental qualities allowed them to stand as purely instrumental pieces on their own merits. The poetic texts that are tied to each of these compositions are also included as a reference.
Acknowledgements
We are grateful to Duo Vitare, Agnieszka Kotulska-Rahunen (cellist) and Kimmo Rahunen (guitarist) who contributed to refinements of this edition.