Here is Gregg's fine arrangement of Chabrier's Habañera for violin and guitar.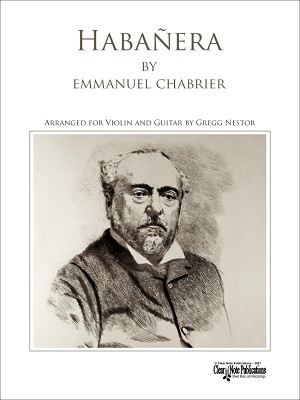 Emmanuel Chabrier (Emmanuel Alexis Chabrier) (January 18, 1841 – September 13, 1894) was a French Romantic composer from the Auvergne region of central France and was born in Ambert in 1841. Although his parents, sensing his abilities, brought him to Paris in 1856, he did not toe the line by studying at the Conservatoire or even at any of the less prestigious musical institutions.
Chabrier was an important influence for subsequent generations of French composers (most notably Ravel who acknowledged his debt to the older composer), although his music was appreciated more by his fellow artists than by the public. His best works stand as beautiful and iridescent jewels.
Chabrier's fascination with music of Spain music is well known from his sultry Habañera. He composed the piece in October 1885, using a theme he had collected during his five-month trip to Spain. This is a gentle masterpiece, played at a slow tempo to make the most of the characteristic rhythm (originally imported from Cuba) familiar from Bizet's Carmen and Saint-Saëns' Havanaise.