Les plus jolies chansons du pays de France by Emmanuel Chabrier arranged for voice and guitar.  Here are the sixteen songs that Gregg has set:

Les Métamorphoses
Entrez, la belle, en vigne
Nique nac no muse!
La mie du voleur
Les filles de trente ans
Le Déserteur
Les garçons de Bordeaux
Sur le bord de l'île
Que les amants ont de la peine!
La mort de la brune
La fleur dorée
Le flambeau éteint
La bien-aimée
Bergère et chasseur
Joli dragon
Marion s'en va-t-a l'òu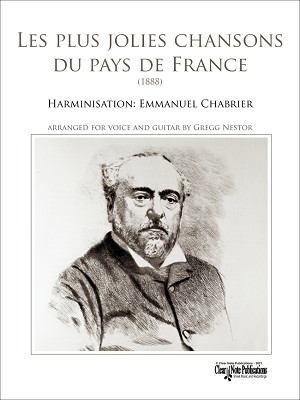 Emmanuel Chabrier (Emmanuel Alexis Chabrier) (January 18, 1841 – September 13, 1894) was a French Romantic composer from the Auvergne region of central France and was born in Ambert in 1841. Although his parents, sensing his abilities, brought him to Paris in 1856, he did not toe the line by studying at the Conservatoire or even at any of the less prestigious musical institutions.
In 1888 the firm of E. Plon, Nourrit et Cie published an extremely handsome and substantial volume of folksong arrangements with beautiful illustrations, both in color and black and white, by Lucien Metivet. The composer was approached and contributed these sixteen miniatures for the publication. His touch in these pieces is deceptively light and restrained; but time after time his musical contribution adds enormously to the music's charm.
Chabrier was a man of the country; if in 1888 the study of folksong had been the serious movement it was soon to become, he might have been in its vanguard. In any case it is clear from these arrangements that he was delighted with these old melodies. When one considers the later arrangements of folksongs by Canteloube, Ravel, Grainger, Bartók, Britten and so on, it is clear that Chabrier was something of a pioneer among the greater composers in working in this field.
Gregg Nestor has arranged sixteen of these beautiful jewels for voice and guitar from the published voice and piano originals. They have been organized in a suggested performance order but would also work well as individual selections for concert or encore use.