Cuatro Pièzas Españolas (1908)
by Manuel De Falla (1876-1946)
arranged for three guitars by Gregg Nestor
Aragonesa
Cubana
Montañesa (Paysage)
Andaluza
"My principal idea was to express musically the soul and the atmosphere of each of the regions indicated by their respective titles."
Manuel de Falla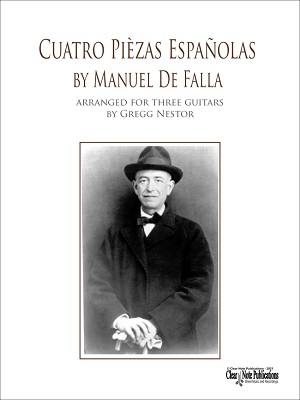 Manuel de Falla (1876-1946), is considered the most distinguished Spanish composer of the early 20th century. In his music he achieved a fusion of poetry, asceticism, and ardor that represents the spirit of Spain at its purest.
Cuatro Pièzas Españolas is considered de Falla's first major piano work, in which he arrived at a technical command and maturity in both compositional and pianistic practices. He had begun composing them in 1906 in Madrid and completed them in Paris. They are exemplary of his development from Romantic tonality to the modalities of Spanish folk music. Furthermore, he was to absorb the influence of Debussy's Impressionistic style and move beyond it. Through rhythm, the melodic lines, and the characteristic ornaments, he evoked the soul of Spain.
The first of these, Aragonesa, displays the energetic character of a folk theme by applying the jota rhythm in the descending triplet-figure which appears fairly often throughout the piece.
The themes of the Cubana, the second movement, are based on the guajira rhythm which combines 3/4 and 6/8 meters alternatively and simultaneously.
In commenting on the third movement, Montañesa, de Falla wrote… Its themes are a major alteration of two folk ones. I wrote this piece in Paris after returning from a stay in the north of Spain the previous winter. What an effect the atmosphere and landscape of that part of my country had on me!.. The church bells ringing in the distance, slow and sad songs, dances, and all this with a superb backdrop of imposing snow topped mountains.
The final piece Andalucia, portrays lively and virtuoso style which explores the many well-known characteristics of Andalusian music, such as flamenco dance, guitar figures, and cante-jondo.
This adaptation for guitar trio by Gregg Nestor can either be performed in its entirety or individual movements. Metronomic tempo markings are suggestions by the arranger.