Suite from "The Magic Opal" (1892) (for guitar trio)
Suite from "The Magic Opal" (1892) (for guitar quartet)
by Isaac Albéniz (1860-1909)
. Arranged for guitar trio and guitar quartet by Gregg Nestor
Prelude
Intermezzo
Ballet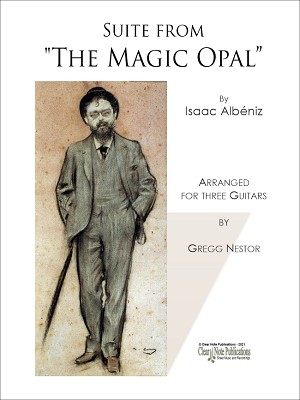 Isaac Albéniz's (1860-1909) name immediately conjures up his piano masterpiece Iberia and various works that have met their success in fine transcriptions for guitar and that are a staple of the repertoire for the instrument. But sprinkled through his tremendously active career as a composer and piano virtuoso, ensemble musician, conductor, impresario and piano teacher are his operas and operettas, written during his stay in London from 1890 until late 1893.
The music revolves around an opal ring that has the power to cause anyone touching it to fall in love with the person wearing it. Although the story takes place in Greece, the music does not stray far from the composer's love of Andalucía, and displays Spanish rhythms and melodic influences.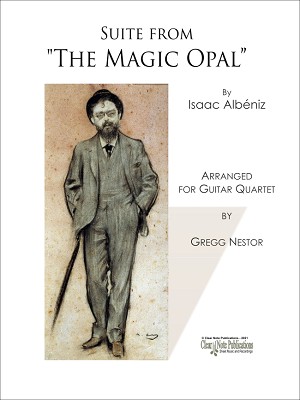 This suite, comprised of three instrumental pieces from the operetta have been arranged for guitar trio and guitar quartet by Gregg Nestor. Together, these movements mirror in microcosm the development of his unique voice and style in masterworks that were to come and that tie him as a major musical icon in the Spanish Nationalist style.
The trio guitar arrangement was commissioned, premiered and recorded by The Great Neck Guitar Trio (Matthew Rohde, Adam Levin and Scott Borg).