Though far from prolific as a composer – by day he was a scientist – Alexander Borodin nevertheless earned a secure place in the history of Russian music. As a creative spirit, Borodin was the most accomplished of the Russian nationalists composers. He had a particular gift for the distinctive stripe of exoticism so evident in his most frequently performed work, the Polovetsian Dances from the opera Prince Igor.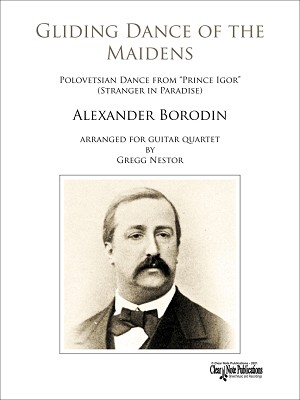 Under the influence of Mily Balakirev, whom he met in 1862, Borodin became interested in applying elements of Russian folk music to works for the concert hall and stage.
In 1953, the musical "Kismet" was created using melodies composed by Borodin. In this case the Gliding Dance of the Maidens (Polovetsian Dance No. 17) was used as the basis of the enormously popular song Stranger in Paradise. The song in the musical is a lovers' duet and describes the transcendent feelings that love brings to their surroundings. Here it is adapted by Gregg Nestor for guitar quartet.