This time Gregg has created a delightful arrangement for two guitars of the well-known Children's Corner by Claude Debussy.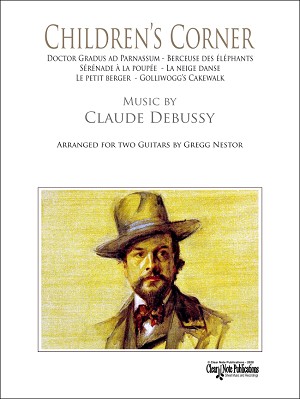 Claude Debussy (1862-1918), one of the greatest French composers, studied at the Paris Conservatoire from 1872, beginning to compose in earnest in his twenties. In the early 1880s he visited Moscow and Vienna and in 1884 won the Prix de Rome for his cantata L'enfant prodigue. The first version of his opera, Pelléas et Mélisande was written in 1895. In 1908 Debussy made his conducting debut in Paris with the symphonic sketches, La Mer. His prolific compositions include incidental music for the theater, a quantity of orchestral and chamber works, large scale vocal pieces with orchestra, dozens of songs, and some of the finest twentieth century pianoforte masterpieces.
The Children's Corner consists of the following:
Doctor Gradus Ad Parnassum
Berceuse des Éléphants
Sérénade a la Poupée
La Neige Danse
Le Petit Berger
Golliwog's Cakewalk
On the score of CHILDREN'S CORNER, here arranged for duo guitars by Gregg Nestor, Debussy wrote a dedication for his daughter, Claude-Emma, five years old at the time of composition: To my dear little Chou chou, with her father's affectionate apologies for what follows. Most of the Suite was written in 1908, with the exception of Serenade of the Doll which was published two years before. The titles of CHILDREN'S CORNER, perhaps in deference to his daughter's English governess, are in Debussy's somewhat idiosyncratic English.