Gregg and Clear Note Publications have produced yet another set of excellent arrangements, this time of Bartók.  The Bartók Sonatine and Bagpipe are available from Clear Note in two different versions: flute and guitar and violin and guitar.  Only the flute and guitar cover is shown below.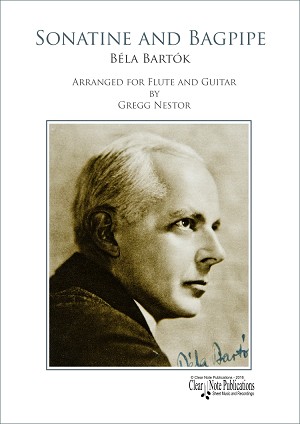 As a young composer, Béla Bartók (1881-1945) fell under the spell of folksong after hearing a peasant girl singing a Transylvanian tune during a summer visit to Gerlice Puszta, southeastern Hungary, in 1904. "I now have a new plan," he told his sister. "I shall collect the most beautiful Hungarian folksongs and raise them to the level of art songs by providing them with the best possible piano accompaniments."
The Sonatine, a three movement piece Bartók wrote for piano in 1915, is adapted here for basically any solo instrument with guitar accompaniment. It's based on folk tunes the composer collected in his neighboring country Romania. Some sixteen years after writing this piece Bartók arranged an orchestral version of it he titled Transylvanian Dances.  The second piece in this edition, a brief but energetic Bagpipe, is from Volume 5 of Mikrokosmos and is added here as an encore piece.