Clear Note has just released Gregg's arrangement of Grieg's Holberg Suite Op. 40. You can check out this new Grieg work for guitar and chamber ensemble at Clear Note here.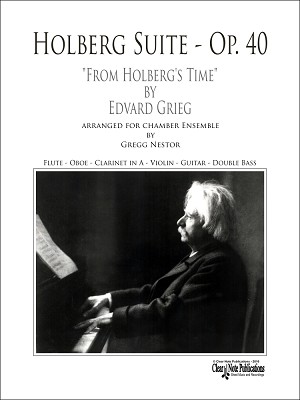 The five movements of the suite are:
Praeludium (Allegro vivace)
Sarabande (Andante)
Gavotte (Allegretto)
Air (Andante religioso)
Rigaudon (Allegro con brio)
The Holberg Suite, Op. 40, by Edvard Grieg, originally entitled "From Holberg's Time", and subtitled "Suite in olden style", is in five movements that are reminiscent of eighteenth century dance forms. Grieg composed the work in 1884 to celebrate the 200th anniversary of the birth of Danish-Norwegian humanist and playwright Ludvig Holberg.
The Holberg Suite, originally composed for piano, was later adapted by Grieg for string orchestra. This arrangement by Gregg Nestor adds the color of wind instruments and guitar, creating a chamber work that is both fun to play and refreshing to hear.