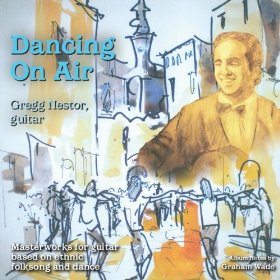 Download Dancing On Air CD Full-Color Digital Booklet (PDF)
Masterworks for Guitar Based on Ethnic Folksong and Dance
Notes
BSX Records/BSXCD 8879/1991
Buy
About
The guitar has long been associated with folk music and composers over the centuries have been indebted to folk songs. One only has to think of Schubert, Liszt, Tchaikovsky, Bartok, Dvorak, Vaughn Williams, Rodrigo, etc. to realise the extent of this umbilical relationship between so called "art" music and the folkloric. On this recording the two cultural streams, that of folk and the other of the concert hall, are juxtaposed, some of the pieces being straightforwardly "folk", the rest examples of how contemporary composers have enthusiastically used the resources of their national heritage.
Tracks
HEBRAIC SUITE anon., arr. Gregg Nestor
1. The Rabbi Wants Us to be Merry  

2. A Flame Is Burning
3. A Letter to Mother
4. Hassidic Dance
5. My Yiddische Momma
6. Inconsolable
7. Chave!
SUITE IN MODO POLONICO Alexandre Tansman
8. Branle (Entrée)
9. Gaillarde
10. Kujawiak (Mazurka Lente)
11. Tempo de Polonaise
12. Kolysanka No. 1  

13. Mazurka  

14. Reverie
15. Alla Polacca
16. Kolysanka No. 2
17. Oberek (Mazurka Vive)
18. GREENSLEEVES anon., arr. John Duarte
ENGLISH SUITE, Op. 31 John Duarte
19. Prelude  

20. Folk Song
21. Round Dance
22. IRISH TUNE-THE LONDONDERRY AIR anon., arr. Gregg Nestor
SUITE PIEMONTESE, Op. 46 John Duarte
23. Pastorale
24. Canzona
25. La Danza
26. HABAÑERA Eduardo Sáinz de la Maza  
27. VARIATIONS ON A CATALAN SONG, Op. 25 John Duarte
Theme – Resoluto – Molto lirico –
Vivo e con forza – Alla Sarabanda –
Con bravura – Con delicatezza – Finale
Credits
Album Produced by Gregg Nestor
Recorded at Penguin Recording, Eagle Rock, CA
Between July and September, 1991
Engineer: John Strother
Digitally Mastered by Jonathan Marcus, Orpharion Recordings
CD Art Direction: Mark Banning
Mr. Nestor's Guitar by Jose Ramirez, 1984
Front Cover Drawing by Gary Friedman
Page Six and CD Label Drawing by Maria Auerova-Griesova