Clear Note has very recently published two of Gregg's Music Plus One arrangements for guitar and chamber orchestra that come with play-along CDs.  The first is the folk song Aire de Joropo and the second is Maxixe by Agustín Barrios.  Both arrangements also are available in performance editions with score and parts here.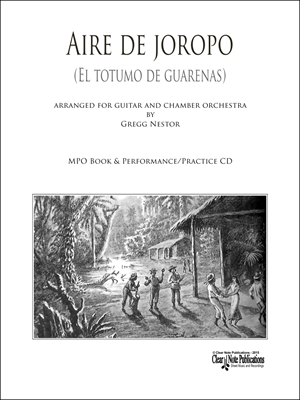 Joropo is a musical style resembling the fandango, and an accompanying dance. It has African, Native South American and European influences and originated in parts of what is now Venezuela. It is a fundamental genre of música criolla (creole music) and is a very popular folk rhythm making use of polyrhythmic patterns, especially of hemiola, and alternation of 3/4 and 6/8 tempos.
Aire de joropo has been a popular folk song played by classical guitarists for a number of years. This guitar and orchestra fantasy was arranged by Gregg Nestor as an encore piece for a London concert in 1980.
This edition of Maxixe for Guitar and Chamber Orchestra includes a Music Plus One play-along recording. MPO recordings are engineered for educational use, personal enjoyment, live concerts, and casual performance.
"The genesis of this arrangement of Maxixe occurred in 1980 during my stay in England. I was playing the Manuel Ponce Guitar Concerto with a municipal orchestra and was asked to prepare two encore items. As the concerto I was playing was by Ponce I chose two short works in keeping with the Mexican and South American style, Maxixe by Agustín Barrios and the folk song Aire de joropo."
Gregg Nestor – San Diego 2015