Intermezzo from "Cavalleria Rusticana" by Pietro Mascagni arranged for Violin and Guitar.  
The Mascagni Intermezzo has also been arranged for Cello and Guitar.
"It was a pity I wrote Cavalleria first. I was crowned before I was king."
Thus did Pietro Mascagni evaluate his own musical career, citing his youthful success in 1890 with Cavalleria Rusticana. He attempted to repeat this triumph in the remaining 55 years of his life but to no avail.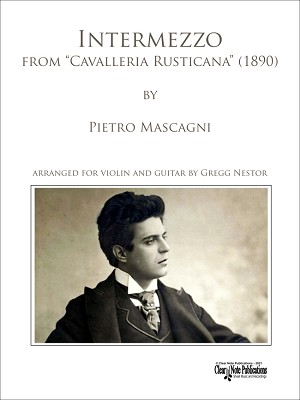 Pietro Mascagni found fame at the age of 27 when he entered his one-act opera, Cavalleria Rusticana, on the final day of a Milanese music publisher's competition for new operatic productions. From a total of 73 entries, Mascagni's was one of three operas selected by the judges. Based on a story by Giovanni Verga, it was premiered in Rome on 19 May 1890, to an audience comprised mostly of music critics. Among their ranks, however, was also the great patron of music, Margherita of Savoy, Queen of Italy. The work was an immediate success. Awarded the First Prize by the panel of judges, Mascagni himself taking up to 40 curtain calls on the night of the first performance!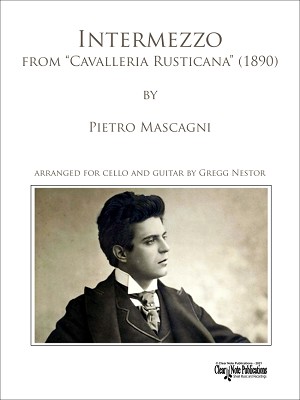 The Intermezzo, arranged by guitarist Gregg Nestor, is an instrumental favorite of the opera. Its justifiable acclaim as an instrumental interlude has inspired its adaptation for use in motion pictures, perhaps most notably in the closing scene of The Godfather film trilogy.